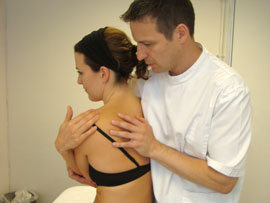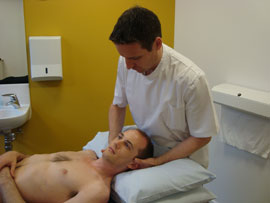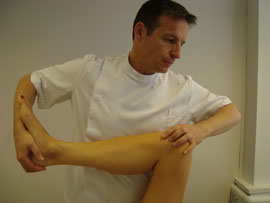 What is Osteopathy
Osteopathy is a system of manual medicine that uses movement to restore normal function to the body's tissues so that the body may better heal itself. The osteopath uses finely tuned palpation and observation skills to detect restrictions in the tissues and by reducing those restrictions allows the body to adapt and respond better to disease or injury, reducing pain and improving function. Osteopaths recognise the body as a whole entity; that a problem in one part of the body can lead to problems in other, seemingly unrelated, areas of the body.
Most people know of osteopaths as back specialists, but in fact, they are able to treat a wide variety of conditions such as:
Muscular and joint pain caused by arthritis
Postural problems
Repetitive strain injuries
Carpal tunnel syndrome
Frozen shoulder
Headaches and migraine
Golfer's/ tennis elbow
Sports injuries: muscle strains and joint sprains
Back pain and stiffness, with or without 'sciatica'
Neck pain and shoulder pain
Muscular aches and pains associated with old age, pregnancy, and work posture
What Will Your Visit Entail?
Initial consultation
Your first visit will last around 1- 1½ hours. You can expect the osteopath to:
Take a detailed case history from you, including information regarding your pain or dysfunction and background details about your health history to screen for possible pathologies
Examine your posture and function in various different positions – standing, sitting and/ or lying down on the plinth. You may be asked to undress to your underwear for this part of the consultation. You may bring shorts and/ or a sports bra to wear if you would feel more comfortable.
Discuss the findings and diagnosis with you and advise you of the suggested treatment plan
Treat using a combination of massage, stretching and mobilisation as appropriate. Mobilisation uses a technique called high-velocity low amplitude thrust (HVT). The aim of this treatment is to improve range of movement in a joint and reduce muscular tension surrounding that joint. It is entirely normal to hear a 'click' or a 'pop'.
Subsequent consultations
Subsequent visits will last 40-60 minutes and will focus on treatment. You may be advised to carry out self stretches or strengthening exercises or use ice or heat treatment between sessions.
Chaperone
You are welcome to bring someone along as a chaperone if you wish. Children under the age of 17 should be accompanied by a parent or legal guardian.
General Osteopathic Council and Patient Protection
When you are being treated by an osteopath, you have the same protection as when consulting a doctor or dentist. Osteopathy is an established system of treatment and is recognised by the British Medical Association; Under the Osteopaths Act of 1993, osteopathy was accorded statutory recognition, and the title "osteopath" is protected by law. Only those who have passed the thorough 4 years of training at one of the recognised osteopathic teaching establishments, and are listed on the Statutory Register, may call themselves osteopaths.
The General Osteopathic Council (GOsC) regulates, promotes and develops the profession, ensuring that the patient is fully protected at all times. If you are uncomfortable at any point in the treatment sessions, please let your osteopath know straight away.
Appointments available
Appleshaw Appointments
| | |
| --- | --- |
| Monday | 09:00 – 17:00 |
| Tuesday | 09:00 – 17:00 |
Romsey Appointments
| | |
| --- | --- |
| Wednesday | 09:00 – 19:00 |
| Thursday | 09:00 – 19:00 |
| Friday | 09:00 – 19:00 |